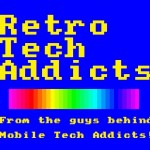 Gareth and Matt enjoy a warm and fuzzy recollection of days gone by in this the latest instalment of the Retro Tech Addicts podcast.
In this week's show we talk about Windows XP, the first Apple iPod and the HTC MTeoR. Also in this show we discuss the rise of HTC and several of their key, early handsets.
This was also an experimental show. We've used Google Hangouts to record this week and later we'll have a video of the show to share too. It's not polished and obviously we'll get better at this as we progress but we thought we would share it nevertheless.
We would really appreciate your feedback!
Get the Android App from Amazon