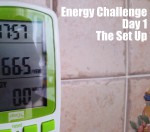 Gareth shows how and where he has installed the energy monitors for the Moneysupermarket.com challenge. From the insertion of the monitor on the live feed to the monitor on the kettle's plug, Gareth's dusty setup covers some of the most used item's around the house. Don't feed the giraffes.
About the Author: Gareth
Seasoned tech blogger. Host of both the Mobile Tech Addicts podcast and The Mobile Tech Addicts Show.