Finally, after much waiting there is a new iOS 7 Jailbreak. Jailbreaking the iPhone is an evermore popular experience these days allowing iPhones and iPads running Apple's latest operating system to install apps outside the official App Store.
The Evasion team have issued the lastest Jailbreak however the bad news is that they are having issues with Cydia, the major jailbreaking "alternative app store." Now Jailbreak appears to feature a Chinese app store that includes pirated software, something that Cydia does not allow. This second store only appears if users switch their local language to Chinese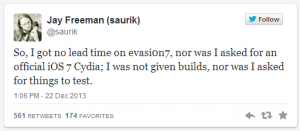 UPDATE: Users are reporting Cydia is now working as planned and the Chinese App Store is no where to be seen.
About the Author: Gareth
Seasoned tech blogger. Host of both the Mobile Tech Addicts podcast and Retro Tech Addicts podcast.