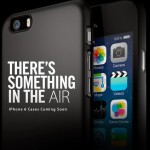 Accessories firm Spigen has listed 4.7-inch and 5.5-inch iPhone 6 covers on Amazon, with the larger model said to include the Air branding. The images show what might be a dummy model of an "iPhone Air" alongside a caption: "There's something in the Air." It's a long wait until Apple is expected to announce a device or two in September.
About the Author: Gareth
Seasoned tech blogger. Host of both the Mobile Tech Addicts podcast and The Mobile Tech Addicts Show.